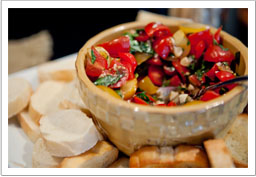 catering
From intimate dinner parties to elaborate celebrations, we use fresh and flavorful ingredients to create a one-of-a-kind menu for your special day.  We work with our clients one-on-one to ensure that we provide them with every need and wish they may have for their event. We treat every event with care and attention to every detail.  No element is neglected so that your event is memorable and stress-free.  We can provide waiters, servers, and specialty drink baristas to help your party run smoothly and professionally.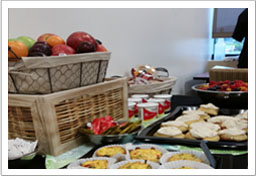 craft services
"In film, television, photo or video production, craft services refers to the department which provides food and beverage service to the other departments or crafts.  In addition to policing the set, they provide buffet style snacks and drinks."  Carmella's Cuisine is experienced in providing Craft Services and can help make your project run smoothly with our carefully prepared snacks, buffets, breakfasts, meals, and beverages.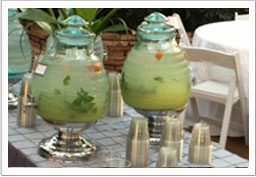 beverages
Carmella's ensures that you always have the perfect drink to accompany the fabulous food at your occasion.  We have an extensive menu of herbal waters, lemonades, and punches.  We can also provide interactive drink bars with baristas concocting unique Italian sodas and other specialty drinks.
br>
testimonials
"Carmie,
 Thank you for the extra yummy lunch you provided for Profit Sharing.  It was great to see you and your team again."
Delta Airlines, In-Flight
"The party was a great success. Everyone seemed to have a great time. It is so nice for us to be able offer our friends great food and also be free to enjoy the time with them. Thanks too for putting things in order at the end."
Bob
"Carmie, you have been so good to us over the years (plus the bearer of some great meals!) .  It has been a pleasure working with you.  Thanks for everything you've done for us.
 Julio"
Delta Airlines, Reservations
"Carmella's Cuisine was fantastic to work with for our daughter's wedding reception. From the beginning when she supplied us with an array of options within our price range through to the end when she professionally produced a beautiful spread of delicious food that added so much to our party."
-Marcy M.
"We were so very pleased with the food at Kelsey's wedding reception.You are a magician in the kitchen! Carmella's Cuisine was wonderful to work with by phone and email, and so professional the night of the event. We heard many positive comments from our guests. Also, your suggestions and guidance as we prepared were invaluable. Your setup was beautiful and you gave us no reason to worry. Thank you for helping to make our family's evening such a lovely success"
-Connie P.
about the chef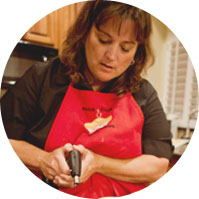 Carmella (Carmie) Anderson has had a passion for food and cooking her entire life. She enjoys cooking for friends and family and introducing them to new and exciting foods. She hosts underground supper clubs for her friends in addition to catering many events throughout the month. She studied cooking techniques in France and continues to
improve her "food education" on a daily basis. Her heart and soul are into making events special for each of her clients and she truly loves what she does. Carmella's Cuisine was founded after years of dreaming of having her own food business. It has been a successful endeavor and literally a dream come true.
Carmie would love to help you make your next event memorable with a customized menu and personal touches that only Carmella's Cuisine can offer. Please contact us for more information.
Bon Appetit!